Its been a month already, where does the time fly, well I have just put the finishing touches to the new site of the month award which I am going to award to Dana over at Chosen Art check out the award below and the awards page with the new Site of the Month I also have three new affiliates, and one new piece of fanart which you can see further down in this post. take a look at the amazing new affiliates below:
( post a comment on any blog post or use the contact form here to become an affiliate )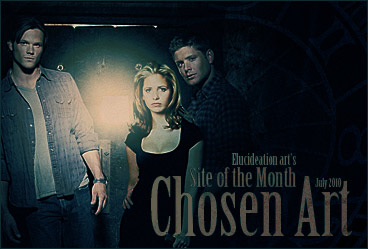 I have been a huge fan of Chosen Art since I got into the fanart biz, and Dana has been a real inspiration over the years, she has this amazing talent for creating fictional scenes, especially with her work with SMG and Dean Winchester, I have seen over time her skill develop and with each new piece get get even more jealous of that skill.
I don't have much else for an update as I have been really busy with my paid work 🙁 (well avoiding my paid work when I get home so I feel bad if I do fun work) but I did manage to add one new piece of art work, one piece I have wanted to do for a while now, I have finally finished watching Supernatural up to the end of season 5 and I love it, to my soul lol, but I have never seen any fanart on Bobby Singer, and I thought his character was totally amazing in the show, so I've created my own, and I'm really happy with it, I wanted to work mainly with stock photography as you see a lot of that kind of art now, and I wanted to pull away from the type of artwork that I am probably most know for (over kill with the Gradient maps lol I know I know its just so easy to use gradient maps to give it a feel) but I tried something new and I think it came out alright.