I missed last month, been really busy with work, and what with getting the new layout live been super busy. but gave me a chance to get a head start this month 😉 I have awarded Shadow of the Day as Lucid Fanart's site of the month.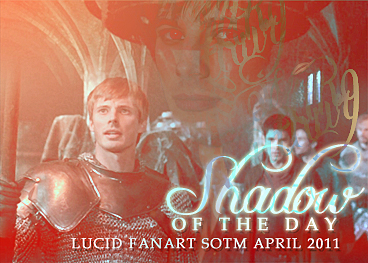 Reason: I'm totally loving Shadow of the Day at the moment, not only does Marilyne have an amazing site, the layout she has to her site always has consistency which I find important with a site, the navigation is really easy to follow, and the designs are always really delicate and well thought out. She has a real flare for Merlin art work… [Read More]
I've also been awarded site of the month at two sites last month and this month, I am so proud get get these awards. Last month Christine from Surrender Your Soul awarded me site of the month check out my cute twilight style award. And this month the wonderful Brittany has awarded Lucid Fanart as site of the month and look at my awesome Being Human USA award.
It has been a fantastic month for me not only did I get the two awesome site of the month awards, but I got some art awards over at Buffy Forums. I got Honourable Mention over at the Angelogy challenge for my Legend of the Seeker wallpaper Angel of Death. I have also got 1st Place W00T! for my Angel Poster.
As you can see my last post was a tutorial, I was actually quite surprised when I saw my poll that a lot of you wanted to see more tutorials. I personally think I suck at making tutorials but I'll try my best. I'm gonna work my way through the Adjustment Layers for Photoshop tutorials, and maybe add in a few wallpaper tutorials when I make new wallpapers I find it difficult to go back and redo wallpapers becuase a lot of the time I just do trial and error its the only advice I give people really play with photoshop and you can't go wrong.
Not sure what kind of HTML and CSS or PHP tutorials I can give you but if you guys have any ideas or if there is anything you've seen on my site you would like to try for yourself just make a note of it in my comments and I'll make a tutorial on it.